News
Merch News! The Stainless Mug is Back! Special Collabo T Completed!
20-Jun-13
[ZOJIRUSHI x FRF13 - Stainless Mug]
Zojirushi provides free tea dispensers at Fuji Rock as part of their effort for the "My Planet My Bottle Project", and the well received collaborative stainless mug will be available again this year! Light and compact, easy to carry around and keeps drinks hot and cold, this item is perfect and convenient to keep hydrated during the day and to keep warm at night.
Colors: DARK COCOA / LILAC / MARINE BLUE
·Capacity: 480ml
·Price: ¥3,360(Tax incl.)
Colors: LIME / DEEP BLUE
·Capacity: 340ml
·Price: ¥3,150(Tax incl.)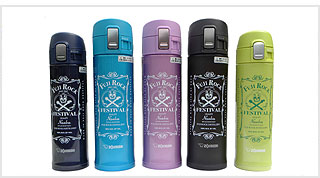 [FUJI ROCK FESTIVAL Strummer School T-Shirt]
Fuji Rock will always have a connection to the late Clash frontman, Joe Strummer. This special collaboration T-shirt is designed by 'Strummerville', a charity established by Joe's family and friends, Fuji Rock and Rookie A Go-Go!
Colors: BLACK / WHITE
Sizes: XS / S / M / L / XL
Price: ¥3,675(Tax incl.)
» GreenOnRed Fuji Rock special