News
[Wristband Exchange]
19-Jul-13
Enter the festival gates after exchanging your ticket for a wristband at Wristband Exchange.
Please note;
Lost wristbands will not be replaced for any reason.
Persons without wristbands will be removed from the festival.
Persons who have removed their wristbands will not be permitted to re-enter the festival. Be sure not to remove your wristband until leaving the festival.
Your wristband is your "proof of purchase". Do not lose or damage it.
Wristbands are required to use the shuttlebus including after the festival.
Wristband Exchange Operating Hours
Thurs. 7/25:12:00 - 24:00
Fri. 7/26:9:00 - 24:00
Sat. 7/27:9:00 - 24:00
Sun. 7/28 :9:00 - 24:00
Wristbands can be exchanged any time after your tickets are valid.
The festival entrance gates will be crowded. Be sure to plan for plenty of time.
It can take up to 3 hours to enter the festival.
3 Day Tickets and 1 Day Tickets for Fri 7/26 can be exchanged for wristbands from Thursday 7/25
This will save time on Friday morning so take advantage.
Attaching your wristband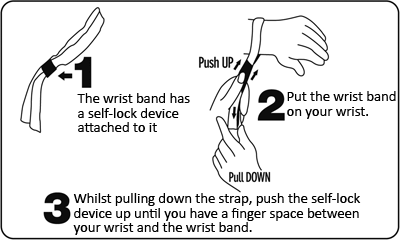 Make sure your wristband is tight enough that it will not come off.

Have someone tighten the wristband "self lock" mechanism for you.
Wristbands are for your wrist. Make sure it is on tight.