History - 2003
Fact file
Dates
July 25, 26, 27, 2003
Place
Naeba Skii Resort, Niigata
Figures
Audience
100,000 (cumulative)
Campers
Campers 15,000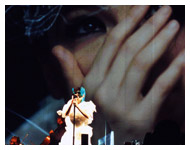 What happened?
Tickets were sold out for the first time this year, which saw a great line-up including a classic set from Elvis Costello, a beautiful performance from Bjork and a showstopper from Iggy Pop.
The Red Marquee continued to be the 'must-see' stage for those looking for new artists after the '02 breakthrough line-up, with JET following suit with an epic show.
THEE MICHELLE GUN ELEPHANT opened the Festival on Friday morning and The Music performed on Green stage for the first time.
There was a new World Music and Jazz stage – the 'Orange Court'- with artists such as Shibusa Shirazu Orchestra and Yosuke Yamashita creating a unique atmosphere.
Local people and volunteers from all over Japan helped complete the boardwalk after 6 months of hard work just in time for the Festival.
Timetable 2003
GREEN STAGE
7/25 (fri)
7/26 (sat)
7/27 (sun)
THEE MICHELLE GUN ELEPHANT
DIRTY DOZEN BRASS BAND
JUDE
DANKO JONES
BACK DROP BOMB
COUNTERFEIT BEATLES
SUGAR RAY
Masayoshi Yamazaki
Vincent Gallo
THE LIBERTINES
ASIAN DUB FOUNDATION
EVANESCENCE
THE MUSIC
COLDPLAY
STEVE WINWOOD
MACY GRAY
PRIMAL SCREAM
ELVIS COSTELLO
UNDERWORLD
BJORK
MASSIVE ATTACK
WHITE STAGE
7/25 (fri)
7/26 (sat)
7/27 (sun)
THE MODS
Guitar Wolf
OOIOO
Schadarapa
PEALOUT
CLAMMBON
TALIB KWELI
SHEENA & THE ROKKETS
ROVO
EL GRAN SILENCIO
HOTWIRE
YO LA TENGO
MICHAEL FRANTI and SPEARHEAD
ANTHRAX
QURULI
FIRE BALL
GODSMACK
LEMON JELLY
SLY & ROBBIE with MICHAEL ROSE
THE MAD CAPSULE MARKETS
THE ORB
BEN HARPER and the Innocent Criminals
IGGY POP
MOGWAI
RED MARQUEE
7/25 (fri)
7/26 (sat)
7/27 (sun)
POCARI SWEAT FRIDAY REVIEW
POCARI SWEAT SATURDAY REVIEW
POCARI SWEAT SUNDAY REVIEW
FLOWER COMPANYZ
GUMX
Sugardonuts
minuteman
DENGEKI NETWORK
IMA ROBOT
ELECTRIC SIX
GOLDFRAPP
JET
HAWAIIAN6
THE RAVEONETTES
bloodthirsty butchers
THE D4
KINESIS
MOTOR ACE
eastern youth
ARB
THE THRILLS
DEATH IN VEGAS
JOHN SQUIRE
EGO-WRAPPIN'
AUDIO ACTIVE
THE MUSIC
THE JEEVAS
RHYTHM PROGRESSION
TRIBAL CIRCUS
SUNDAY SESSION
NUMB
ROYKSOPP
DIRTY VEGAS
POLE feat. FAT JON
TIM DELUXE
CHATEAU FLIGHT(DJ GILB-R/I:CUBE)
EL-P/AESOP ROCK/DJ BIG WIZ
AUDIO BULLYS
MICHAEL FRANTI and SPEARHEAD
DJ KENTARO
PLUMP DJs
DJ KLOCK
PREFUSE 73
BOOM BOOM SATELLITES
TUCKER feat. AFRA
DJ BAKU
DJ TASAKA
DJ MAMEZUKA
MOODMAN
---
---
FIELD OF HEAVEN
7/25 (fri)
7/26 (sat)
7/27 (sun)
MAJESTIC CIRCUS
SOIL & HEMP SESSIONS
AYANO TSUJI
THEATRE BROOK
THE TROJANS
YAMAGEN
UA
KEMURI
KENJI ENDO & CURRY RICE
SOUNDTRIBE SECTOR 9
GEDO
NICK LOWE
BOB WEIR AND RATDOG
GOCOO
G.LOVE & SPECIAL SAUCE
---
BAHO
STEVE KIMOCK BAND
---
BEN HARPER and the Innocent Criminals
---
---
JOHN MAYALL & THE BLUES BREAKERS
---
ORANGE COURT
7/25 (fri)
7/26 (sat)
7/27 (sun)
KATTENI SHIYAGARE
SINSKE
HASHIKEN
ATSUKI KIMURA
Date Course Pentagon Royal Garden
KAN MIKAMI+Nonaka Goku
TIGERMAN
BOB LOG III on Fat Possum Records
RUINS
LATCHO DROM
CALIFORNIA GUITAR TRIO
CICALA-MVTA
JOHN MAYALL & THE BLUES BREAKERS
MAKOTO MITANI
THE SUN RA ARKESTRA
DIRTY DOZEN BRASS BAND
YOSUKE YAMASHITA
DAIZUKO FARM - SHIBUSA SIRAZU ORCHESTRA
G.LOVE & SPECIAL SAUCE
PAINKILLER featuring BILL LASWELL, JOHN ZORN,YOSHIDA TATSUYA
---
ALL NIGHT FUJI
SAIKO-POD(SOLSTICE MUSIC/DK)
KOXBOX(NOVATEKK/DK)
WIZZY NOISE
SASHA
TSUYOSHI
FRANK'E(SAIKO-POD/KOXBOX/DK)
DJ19
DoCoMo M-stage ROOKIE A GO-GO supported by COMMUNE
7/25 (fri)
7/26 (sat)
7/27 (sun)
SABROSURA DEL SONIDO
rallypapa & carnegiemama
ASIAN KUNG-FU GENERATION
ROUND SCAPE
BOTH CHEESE
PINK FLAMINGO MG
Limited Express (has gone?)
Dogggy style
CONTACT
FANTASY'S CORE
YUICHIRO TANAKA
SAMBOMASTER
BLUE III
GRAND MONARCH
MOCMOCREW
Gypsy Avalon
7/25 (fri)
7/26 (sat)
7/27 (sun)
The Street Fighters
HAJIMENIKIYOSHI
Performance for the peace - let's sing about love
AOTAJARVISYOHEIKOUJI
Pop Music Club Band
ANAMU&MAKI
SOUUN TAKEDA (calligrapher)
JAKE SHIMABUKURO & THE CUTBACK
Les Ballets Maliens
MAJESTIC CIRCUS
CORNER
TAVITO NANAO
MAKI YANO
ASA-CHANG&JUNREI
akeboshi
Counterfeit Beatles
YUJI KATSUI
CALIFORNIA GUITAR TRIO
LATCHO DROM
TIGERMAN
IMO
---
KICELL
---