History - 2005
Fact file
Dates
July 29, 30, 31, 2005
Place
Naeba Skii Resort, Niigata
Figures
Audience
125,000 (cumulative)
Campers
16,000
Tents
6,000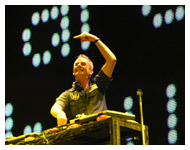 What happened?
The first day the green stage hosted two billboard No 1 artists - Coldplay who enjoyed huge worldwide acclaim in 2005 and the Foo Fighters.
Many Japanese artists such as ROSSO and Crazy Ken Band performed for the first time in the Festival.
Beck, who hadn't performed at the Festival since his legendary 98 show, headlined the second day jointly with world No1 DJ Fat Boy Slim. Tickets were sold out for the first time since the day when Bjork played in 2003. Many artists played including a reunion of Dinosaur Jr. and Ryan Adams' first performance in Japan.
Two headliners, New Order on Green stage and Sigur Ross on White, made who to see a difficult choice for the audience. Beach Boys at sunset was totally memorable, as were surprise special guest Primal Scream.
A new energy saving campaign 'NEW POWER GEAR' incorporating bio diesel and solar power was introduced and in partnership with the fashion brand Master Mind Japan, 'Fuji Rock Collection' started.
The Fuji Rock Yukata (Japanese summertime kimono) contributed to festival holiday vibe.
Timetable 2005
GREEN STAGE
7/29 (fri)
7/30 (sat)
7/31 (sun)
MASTER LOW
Los Lobos
The Knack
Simple Plan
SHERBETS
KEMURI
Cake
MAXIMO PARK
EGO-WRAPPIN'
THE HIGH-LOWS
Tokyo Ska Paradise Orchestra
Quruli
The Music
Asian Dub Foundation
The Beach Boys
Coldplay
Beck
Moby
Foo Fighters
Fatboy Slim
New Order
---
---
Very Special Guest:PRIMAL SCREAM
WHITE STAGE
7/29 (fri)
7/30 (sat)
7/31 (sun)
Your Song Is Good
Juliette & the Licks featuring Juliette Lewis.
afrirampo
SOIL & "PIMP" SESSIONS
SAFARI
The Go! Team
BANDA BASSOTTI
HAWAIIAN6
SOUL FLOWER UNION
THE SKA-FLAMES
Sambomaster
Athlete
Prefuse 73
Feeder
Doves
Steel Pulse
GANG OF FOUR
BOOM BOOM SATELLITES
The Pogues
Dinosaur Jr.
The Mars Volta
Kiyoshiro Imawano & NICE MIDDLE with NEW BLUE DAY HORNS
BRAHMAN
Sigur Ros
RED MARQUEE
7/29 (fri)
7/30 (sat)
7/31 (sun)
Levi's Friday Review
Levi's Saturday Review
Levi's Sunday Review
ANALOGFISH
O'Brothers ( from Korea )
Tizzy Bac ( from Taiwan )
Night Snipers(from Russia)
The Dresden Dolls
Juliette & the Licks featuring Juliette Lewis.
The Longcut
The Black Velvets
OCEANLANE
ACIDMAN
PRAXIS
The Magic Numbers
Kaiser Chiefs
The Bravery
Aqualung
Charlotte Hatherley
PEALOUT
The Futureheads
ROSSO
Clammbon
Royksopp
---
Mercury Rev
The Coral
PLANET GROOVE
TRIBAL CIRCUS
SUNDAY SESSION
DJ Peanut Butter Wolf
United State of Electronica
Zuco 103
Crown City Rockers
TOWA TEI
SUGIURUMN
DJ MADLIB
Cagedbaby
Mylo
DJ KENTARO
VITALIC
PETER HOOK(NEW ORDER)
EVIL NINE
Laurent Garnier
DJ TAKAYUKI SERINO
---
---
KODAMA AND THE DUB STATION BAND
FIELD OF HEAVEN
7/29 (fri)
7/30 (sat)
7/31 (sun)
bobin and the mantra
copa salvo
SPECIAL OTHERS
FUMIDO
Dachambo
bonobos
TOKYO No.1 SOUL SET
CHRIS MURRAY COMBO
MAMALAID RAG
The beautiful girls
Amp Fiddler
The John Butler Trio
PE'Z
My Morning Jacket
Yonder Mountain String Band
ROVO
Ryan Adams & The Cardinals
Soulive
ORANGE COURT
7/29 (fri)
7/30 (sat)
7/31 (sun)
SKA CUBANO
Leyona
THE PEACE IN LOVE PERCUSSIONS
Eddi Reader
100s (Hyaku-Shiki )
WEST ROAD BLUES BAND
Lisa Loeb
The California Guitar Trio
Koutaro Oshio
The Kingtones
Lightning Blues Guitar Sessions
Hiromi Uehara
Crazy Ken Band
Adrian Belew
GONTITI
---
LOSALIOS
Strange Love Psychedelico
---
---
Los Lobos
ALL NIGHT FUJI
AGERO (a.k.a.BRYAN & DJ TASAKA & DJ AYASHIGE)
RYUKYUDISKO
TAKKYU ISHINO
YOUTH
DIMITRI D.K.N (SOLSTICE MUSIC)
UKAWA NAOHIRO
Gypsy Avalon
7/29 (fri)
7/30 (sat)
7/31 (sun)
POKASUKAJAN - BAN BAN BAZAR (BANBANJAN)
Eddi Reader
sanch (Shiro Sano, Jun Hashimoto, GRACE, Emerson Kitamura)
TAKAKO SHIRAI
Matsusen
Yuichi Ohata
KOH-TAO
SKA CUBANO
Mari Nakamura
Komainu
Kathie & Keni Inoue
THE BEAUTIFUL LOSERS
HB
THE PEACE IN LOVE PERCUSSIONS
Osamu Koganei
DOUBLE FAMOUS 7
YOUTH
Sayoko Otonara
Big Willie's Burlesque
Yonder Mountain String Band
ACOUSTICS GO GO (Shinya Oe, Hiroyuki Hanada, Tomio Inoue)
---
The Kamadouma
Inushiki a.k.a.Dogggystyl
THE PALACE OF WONDER
7/29 (fri)
7/30 (sat)
7/31 (sun)
ROOKIE A GO-GO
watusi zombie
Herish
ROSSANNA
The Cherry Coke$
MOTOR MUSTANG
QUATTRO
Lucky13
understatements
KAMABOIRA
McArthur a Contti
pocketLife
STAN
dub'n'rush
the CHICKEN masters
JAZZNEKO
TENT
CLUB SKA
LONDON NITE
Last Dance with You
Kid Carpet
LONDON NITE DJ's
M.A.G.M.A
CLUB SKA DJs
Kid Carpet
The Hump DJs
THE BOLDIES
Big Willie's Burlesque
Big Willie's Burlesque
SKA CUBANO
---
Mamezuka
Big Willie's Burlesque
---
Kid Carpet
---
---
Gideon Benger
---
---
Tokyo Ca Bunny with JVC FORCE TYO
---
---
POW DJ TEAM(Sim Cass,Jason Mayall and friends)
PALACE ARENA
Jean Monti - Highwire and Sway Pole Show
NAEBA SHOKUDO
7/29 (fri)
7/30 (sat)
7/31 (sun)
Golden Loafers
SAKE ROCK
Big Willie's Burlesque
Kazumi Nikaido
THE PEACE IN LOVE PERCUSSIONS
K.P.M.
Akainu
Takashi Nagai & the Blue Power
Mayumi & Mineko (from afrirampo)
THE BIG HIP (ex The Blue Hearts & THE HIGH-LOWS )
Natsuki Nakamura
Akainu
---
---
Takako Shirai
DAY DREAMING AND SILENT BEEZE
7/29 (fri)
7/30 (sat)
7/31 (sun)
DAY DREAMING
TIME K Live & DJ
TOSHI DJ
SAL DJ
CHUB DU LIVE
AYA-SHIGE DJ
BALESOUND LIVE
YODA DJ
MUTHERFUNKA DJ
MASA DJ
Cinnabon Live
KIHIRA NAOKI DJ
SINE 6 LIVE
---
---
SEINO & MATSUSAKA DJ
SILENT BREEZE
Story Telling, Skipping Rope, Unplugged Music Live, etc.
MOKU-DO-TEI
7/29 (fri)
7/30 (sat)
7/31 (sun)
Double Famous7
Double Famous7
Los Lobos