History - 2007
Fact file
Dates
July 27, 28, 29, 2007
Place
Naeba Skii Resort, Niigata
Figures
Audience
127,000 (cumulative)
Campers
14,000
Tents
7,000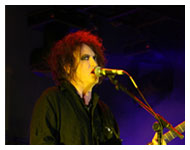 What happened?
The 11th Fuji Rock Festival presented another stunning line-up. 
Friday saw The Cure's triumphant return to Japan after 23 years, Groove Armada sailed into the White stage and proved they are a No 1 dance act, whilst Muse sounded like they brought Wembley Stadium to the Green stage.

Saturday had The Beastie Boys headline for the first time, after Iggy & The Stooges invited the whole audience on stage and Scafull King's reunion mirrored that excitement over on the White stage. The Red Marquee Dance tent was 'hands in da air' till dawn with new comers Justice and Simian Mobile Disco, who are now household names - they rocked till well past sunrise into Sunday morning.
The Chemical Brothers, a Fuji Rock favourite, stunned the crowd with their most visual and aural set to date and Tokyo Ska Paradise created a great atmosphere with a typical, high energy performance. Earlier in the day new artist Mika's first visit to Japan excited the Green Stage audience with a
magical show, bringing happy smiling faces to everyone. He promised to return. 
Every year there are more and more applications from hungry newbies to play the Rookie A Go-Go stage for unsigned bands. Sambomaster, who started in 2003 at the Rookie A Go-Go, have every year have moved up a notch via the Red Marquee and White Stage, to this year playing the holy Green Stage.  So when the Rookie A Go-Go stage opened, the slogan for the unsigned band competition winners bands was 'make it to Green Stage!'
Meanwhile away from the madding crowd, across the lofty alpine mountains over the festival, runs the Dragondola, the longest Gondola mountain to mountain transporter.  We had a record number of over 10,000 fans escape to the top of the mountain to view the festival below and the popular Family tour packages now feature official 'family only' packages. 
Below in The Stoned Circle, a new community area featuring stalls selling their wares and a chill out café, artisans joined together to make and play weird and wonderful percussion instruments till they could drum no more. Another amusement was the Fuji Rock rice crackers, after the previous years success of Fuji Rock biscuits, made in Niigata, they sold out straight a way!
Also selling well was the Fuji Collection of an official line of t-shirts, now in its 3rd year, with part of the profit donated to Strummerville, the charity set up by Joe Strummer's family and friends to support young musicians.
Finally the Fuji Rock Festival again supported Global Cool, the world environmental foundation set up to tackle global warming, the bio diesel electricity used for a long time in the Avalon Field was introduced to other areas such as Field of Heaven and on the board walk mini stage and Fuji Rock has started a trial to recycle plastic bottles from the Festival and create Fuji Rock jackets for next year...
Timetable 2007
GREEN STAGE
7/27 (FRI)
7/28 (SAT)
7/29 (SUN)
sambomaster
JULIETTE & THE LICKS
SOIL & "PIMP" SESSIONS
YELLOWCARD
MOTION CITY SOUNDTRACK
FERMIN MUGURUZA
KEMURI
!!! (chk chk chk)
MIKA
JARVIS COCKER
KULA SHAKER
JOSS STONE
KINGS OF LEON
KAISER CHIEFS
HAPPY MONDAYS
MUSE
IGGY & THE STOOGES
TOKYO SKA PARADISE ORCHESTRA
THE CURE
BEASTIE BOYS
THE CHEMICAL BROTHERS
WHITE STAGE
7/27 (FRI)
7/28 (SAT)
7/29 (SUN)
AKAINU
HiGE
DEERHOOF
the band apart
MAE
ELECTRELANE
STEVIE SALAS COLORCODE
SCAFULL KING
toe
YOUR SONG IS GOOD
LESS THAN JAKE
THE SHINS
MONEY MARK
THE ATARIS
clammbon
THE JOHN BUTLER TRIO
OMAR RODRIGUEZ LOPEZ GROUP
BATTLES
GROOVE ARMADA
ASH
V∞REDOMS
BOOM BOOM SATELLITES
JUNO REACTOR
RED MARQUEE
7/27 (FRI)
7/28 (SAT)
7/29 (SUN)
carrozzeria FRIDAY REVIEW
carrozzeria SATURDAY REVIEW
carrozzeria SUNDAY REVIEW
HELLOGOODBYE
MONORAL
PAUL STEEL
10-FEET
FRONTIER BACKYARD
GUITAR WOLF
BLONDE REDHEAD
THE BIRD AND THE BEE
THE WOMBATS
THE ALBUM LEAF (*CANCELLED)
SANDI THOM
THE PIGEON DETECTIVES
fujifabric
SWITCHES
THE ANSWER
MUMM-RA
SHONEN KNIFE
THE BACK HORN
OCEAN COLOUR SCENE
LILY ALLEN
PETER BJORN AND JOHN
FOUNTAINS OF WAYNE
G.LOVE&SPECIAL SAUCE
FRICTION (ЯECK - Tatsuya Nakamura)
ー
KENICHI ASAI
CLAP YOUR HANDS SAY YEAH
PLANET GROOVE
TRIBAL CIRCUS
SUNDAY SESSION
RATATAT
SPACE COWBOY
THE WHIP
DJ CHERNOBYL
SIMIAN MOBILE DISCO
KIREEK
HIFANA
TAKKYU ISHINO
CHROMEO
A-TRAK
JUSTICE
SURKIN
dj KENTARO
TEENAGE BAD GIRL
SUN PAULO
THA BLUE HERB
DEXPISTOLS
metalmouse
DJ NORI
ー
ROVO
FIELD OF HEAVEN
7/27 (FRI)
7/28 (SAT)
7/29 (SUN)
SHIBUSASHIRAZU ORCHESTRA
Panorama Steel Orchestra
HEATWAVE
COOL WISE MEN
SHIONE YUKAWA
THE KING TONES with Jimmy and the Vivids
GOMA&JUNGLE RHYTHM SECTION
DUB AINU BAND
SEIKATSU CIRCUS
RAILROAD EARTH
DACHAMBO
JONATHAN RICHMAN
cutman-booche
GRACE POTTER AND THE NOCTURNALS
J.A.M
YO LA TENGO
Gov't Mule
SOUL FLOWER UNION
ー
ー
HEAVEN'S JAM
ORANGE COURT
7/27 (FRI)
7/28 (SAT)
7/29 (SUN)
NETSUZOU TO GANSAKU
MADAME GUITAR NAGAMI JUN
OMOKAGE LUCKY HALL
MIYUKI HATAKEYAMA with ASA-CHANG & BLUE HATS
ELANA JAMES AND HOT CLUB OF COWTOWN
PURI
SENTIMENTAL CITY ROMANCE
ATSUKI KIMURA & FUSANOSUKE KONDO
Marva Whitney with Osaka Monaurail
akiko / Moreno-Domenico-Kassin+2
kotobuki
HIROMI UEHARA - HIROMI'S SONICBLOOM
TERUMASA HINO QUINTETTO
FEIST
SALSA SWINGOZA
PE'Z
iLL
JAKE SHIMABUKURO
-
RRIICCEE music Vincent Gallo
FERMIN MUGURUZA
All Night Fuji
TOMCRAFT
Dr.SHINGO
TIM DELUXE
SHINICHI OSAWA (MONDO GROSSO)
DAMIAN LAZARUS
Audiojack
DJ TSUYOSHI a.k.a NUMANOID
Gypsy Avalon
7/27 (FRI)
7/28 (SAT)
7/29 (SUN)
NGO appeal: Global Warming/Natural energy resources
NGO appeal: Poverty
NGO appeal: Save Shimokitazawa with Flower Company
MISAKO KOTANI
NUMB
YoLeYoLe
KOUSUKE ATARI
YUSUKE OYA (Polaris/ohana)
GOOD LUCK HEIWA
AYANO TSUJI
CHIKA TAKAHASHI
bobin
MAKOTO SAITO
Upendra and friends
JONAH MATRANGA
ELANA JAMES AND HOT CLUB OF COWTOWN
GABBY & LOPEZ
Yae
THE PEACE IN LOVE PERCUSSIONS
PURI
OUGON NO TE
-
SIBERIAN NEWSPAPER
mmonocism with TAKASHI NUMAZAWA
-
Shima&ShikouDUO
-
THE PALACE OF WONDER
7/27 (FRI)
7/28 (SAT)
7/29 (SUN)
ROOKIE A GO-GO
THE BAWDIES
BO-PEEP
group_inou
a flood of circle
DOIMOI
Cypress Ueno & Robert Yoshino
The Jerry of Beat's
avengers in sci fi
GELLERS
Nikujaga
soul dimension
mass of the fermenting dregs
THE SPYZZ
KINGDOM AFROCKS
LITE
TENT
NEVER MIND
IN BUSINESS
LET'S PARTY
SIM CASS
JIM WEST
DJG
Druweed / Masaya Hayashi
Daisuke Kuroda
JONATHAN RICHMAN
Masaki Mori (EGO-WRAPPIN')
Osaka=Monaurail feat. Marva Whitney
LINCOLN (SOS / Deep Funk)
Stranger Cole with Dreamlets
DJ JIN
Kwabana Lindsay's "Fiddler on the Rope"
KING NABE (CLUB SKA)
MURO
Little fats & Swingin' hot shot party + futari nori
-
Osaka=Monaurail
Takeshi Kubota
EDDIE"TAN TAN"THORNTON WITH COOL WISE MEN
IN BUSINESS DJs
The Space Cowboy
-
-
JVC FORCE feat. JVC Cheers
Satoru Fujii a.k.a Satol F. (Caribbean Dandy)
-
SIM CASS
ARENA
Infernal Varanne's Globe of Death
NAEBA SHOKUDO
7/27 (FRI)
7/28 (SAT)
7/29 (SUN)
KAN MIKAMI
DEERHOOF
SKUNK BROTHERS with IKUOKO HARADA
ASA-CHANG & Junray
JONATHAN RICHMAN
GOOD LUCK HEIWA
humbert humbert
cutman-booche
Hands of Creation
Illreme
Double Famous
AKAINU
DAY DREAMING AND SILENT BEEZE
7/27 (FRI)
7/28 (SAT)
7/29 (SUN)
ECCY
NUMANOID aka TSUYOSHI
KOTANI KAZUYA
RUB-A-DUB MARKET feat. HIBIKI SAKURAI
DEXPISTOLS
AUDIO PLANTER SOUNDSYSTEM aka DAISUKE MATSUSAKA
SHIGE(WRENCH)
HITOSHI OHISHI
YODA
ALTZ
CAPTAIN FUNK
SEI-NO-ISE
MOKUDO TEI
7/27 (FRI)
7/28 (SAT)
7/29 (SUN)
Upendra&Friends
NANAO TABITO
Double Famous
cutman-booche
SHIMIZU GEININ
Upendra&Friends