History - 1999
Fact file
Dates
July 30, 31, August 1, 1999
Place
Naeba Skii Resort, Niigata
Figures
Audience
72,000 (cumulative)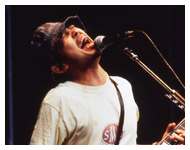 What happened?
The first year in Naeba, Niigata was also the year FRF became a 3-day event.
Green stage, White stage, Field of Heaven, Dance Tent and Rookie Stage were all born, reflecting the landscape of the site.

70,000 people and over 100 artists enjoyed the different atmospheres created by each stage, with multiple live performances happening simultaneously across the festival site.
A special note for this year was the rubbish clearing campaign organised by 300 volunteers. This helped the Festival in '99 be known by the international media as the 'Clean Festival' and created a Festival spirit shared among music loving audience, artists and crew.
Timetable 1999
GREEN STAGE
7/30 (fri)
7/31 (sat)
8/1 (sun)
ROCKET FROM THE CRYPT
Rory Mcleod
FEMI KUTI
PHISH
Tokyo Ska Paradise Orchestra
CATATONIA
Tamio Okuda
BOREDOMS
ASH
STEVIE SALAS
UA
Ruffy Tuffy - Kiyoshiro Imawano
NAWANG KECHOG
RAY DAVIES
OCEAN COLOUR SCENE
Hi-STANDARD
SKUNK ANANSIE
BERNARD BUTLER
THE BLACK CROWES
LIMP BIZKIT
NAWANG KECHOG
RAGE AGAINST THE MACHINE
THE CHEMICAL BROTHERS
JOE STRUMMER and The Mescaleros
TODOS TUS MUERTOS
BLUR
ZZ TOP
TODOS TUS MUERTOS
WHITE STAGE
7/30 (fri)
7/31 (sat)
8/1 (sun)
Dengeki Network
DMBQ
POLYSICS
NEVE
BRAHMAN
MISHKA
REGULAR FRIES
FEEDER
FOUNTAINS OF WAYNE
DEATH IN VEGAS
BACK DROP BOMB
FUN LOVIN' CRIMINALS
audio active
eastern youth
LEE "SCRATCH" PERRY
PROPELLERHEADS
ATARI TEENAGE RIOT
TRICKY
UNDERWORLD
THE JON SPENCER BLUES EXPLOSION
HAPPY MONDAYS
FIELD OF HEAVEN
7/30 (fri)
7/31 (sat)
8/1 (sun)
Osamu Koganei
Hiroki Okano with Tenkoo Orchestra
RORY McLEOD
RORY McLEOD
Rory McLeod
BREAKBEAT ERA
BIG FROG
NAWANG KHECHOG with THE 3PEACE
TODOS TUS MUERTOS
Ruby
TODOS TUS MUERTOS
FEMI KUTI
PHISH
PHISH
PHISH
Virgin TENT "PLANET GROOVE"
7/30 (fri)
7/31 (sat)
8/1 (sun)
MAMEZUKA
DJ ALEX
DRY AND HEAVY (Live)
PSYCHEOUTS (Live)
SUSUMU YOKOTA
MANI (from Primal Scream)
RHYTHM FREAKS
DJ YAMA
GAZ'S ROCKIN' BLUES featuring SKA FLAMES (Live)
DUB SQUAD(Live)
HYBRID (Live)
KURANAKA+1945
DEEJAY PUNK-ROC
KIHIRA NAOKI
RYU-(DJ KRUSH, DJ HIDE, DJ SAK) with TUNDE AYANYEMI
DJ KENSEI
Q'HEY
RONI SIZE & DYNAMITE MC
DJ YAS
DJ SHUFFLE MASTER
BREAKBEAT ERA (Live)
TWIGY featuring RINO DJ AMEKEN and DJ YUZE (Live)
TSUYOSHI - JouJouka (Live)
DJ DIE
MIX MASTER MIKE
SUSUMU YOKOTA
Jungle Brothers (Live)
Prince Paul & Automator
dj wada
MAD PROFESSOR
DJ TOUCHE from WISEGUYS
The Orb (Live)
TATSUYUKI HIYAMUTA PRESENTS "JINGI NAKI TATAKAI " In TABOO
LES RYTHMES DIGITALES (Live)
CAPTAIN FUNK
Jon Carter(from Monkey mafia)
co-fusion
BOOM BOOM SATELLITES (Live)
UNDERWATER NIGHT featuring DARREN EMERSON, DARREN PRICE
SHINICHIRO HIRATA
KEN ISHII
DJ Spooky That Subliminal Kid
Levi's NEW STAGE
7/30 (fri)
7/31 (sat)
8/1 (sun)
Missile Girl Scoot
Nekoguruma
THE BACK HORN
MUSCLE DOGGY GROOVES
In the Soup
STROBO
Dr.Core (from Korea)
PEALOUT
the cimons
MAD 3
Quruli
WINO