History - 2006
Fact file
Dates
July 28, 29, 30, 2006
Place
Naeba Skii Resort, Niigata
Figures
Audience
131,000 (cumulative)
Campers
17,500
Tents
7,500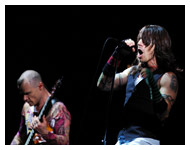 What happened?
The Festival celebrated its 10th anniversary with RED HOT CHILI PEPPERS headlining Green stage on Saturday. Other memorable acts to mention are Denki Groove who has been popular in the Festival since the 1st year, SCISSOR SISTERS that created a fantastic party on White Stage on Saturday - many audience commented it was one of the best performance in the whole Festival.
This year also witnessed a variety of performances such as KULA SHAKER who was re-united after a long break and 2MANYDJS who kept audience in Red Marquee dancing until sunrise.
In their 2nd appearance in the Festival, FRANZ FERDINAND headlined Friday night. Legendary Tokiko Kato fascinated young audience who may not have heard her sing before. THE CROMAGNONS, the new band by Hiroto and Marcy, and GNARLS BARKLEY attracted a huge number of audience. THE STROKES headlined Sunday night in their first Fuji Rock. Green Stage closed with HAPPY MONDAY after the clock hit midnight.
The board walk expanded to a new route. The paths are decorated every year and look quite different at night. In Palace of Wonder area by the entrance gate, there was a vintage tent called 'Crystal Palace'. Small satages such as Mokudo-Tei and Naeba Shokudo are loved by audience, a must in the Festival.
28th Friday was marked as 'Global Cool Day' in co-operation with an environmental organisation 'Global Cool' and it was appealed to the audience to promote reduction in CO2 emission.
Fuji Collection that started in 05 has welcomed a new partner and has been creating a wider range of Fuji Rock related clothing.
Timetable 2006
GREEN STAGE
7/28 (FRI)
7/29 (SAT)
7/30 (SUN)
THE STRING CHEESE INCIDENT
WOLFMOTHER
KODO
FLOGGING MOLLY
MO'SOME TONEBENDER
THE REFUGEE ALL STARS OF SIERRA LEONE
THE COOPER TEMPLE CLAUSE
THE KINGTONES featuring JIMMY IRIEDA & NANCY
KT TUNSTALL
ASIAN KUNG-FU GENERATION
THE HIVES
SNOW PATROL
DIRTY PRETTY THINGS
KEN YOKOYAMA
JASON MRAZ
JET
SONIC YOUTH
THE RACONTEURS
FRANZ FERDINAND
DENKI GROOVE
THE STROKES
---
RED HOT CHILI PEPPERS
Very Special Guest:HAPPY MONDAYS
WHITE STAGE
7/28 (FRI)
7/29 (SAT)
7/30 (SUN)
SAKEROCK
locofrank
envy
THE CROMAGNONS
eastern youth
ISIS
A HUNDRED BIRDS ORCHESTRA
VALENCIA
rinocerose
TOMMY GUERRERO
STRAIGHTENER
BROKEN SOCIAL SCENE
GNARLS BARKLEY
STORY OF THE YEAR
TRANSIT KINGS
FIRE BALL with JUNGLE ROOTS
BACK DROP BOMB
BUFFALO DAUGHTER
DONAVON FRANKENREITER
YEAH YEAH YEAHS
SUPER FURRY ANIMALS
MADNESS
SCISSOR SISTERS
MOGWAI
RED MARQUEE
7/28 (FRI)
7/29 (SAT)
7/30 (SUN)
carrozzeria FRIDAY REVIEW
carrozzeria SATURDAY REVIEW
carrozzeria SUNDAY REVIEW
10-FEET
FRONTIER BACKYARD
GUITAR WOLF
THE SPINTO BAND
FIELDS
MILBURN
MARTHA WAINWRIGHT
THE RIFLES
MUMM-RA
ATMOSPHERE
MYSTERY JETS
THE AUTOMATIC
THE CRIBS
THE LIKE
ORSON
ROGER JOSEPH MANNING JR.
JUNIOR SENIOR
BAXTER DURY
THE ZUTONS
KULA SHAKER
KILLING JOKE
---
---
SHINYA OE
PLANET GROOVE
TRIBAL CIRCUS
SUNDAY SESSION
AFRA & INCREDIBLE BEATBOX BAND
RYUKYUDISKO
JENNY LEWIS
TUCKER
RADIOSOULWAX PRESENTS NITEVERSIONS LIVE
DIGITALISM
BIRDY NAM NAM
HYPER-DJ SET
NIGHTMARES ON WAX SOUND SYSTEM
SCRATCH PERVERTS
JUNKIE XL
SHIRO THE GOODMAN
CONGO NATTY feat. REBEL MC
2MANYDJS
METALCHICKS
DJ BAKU
---
BEZ DJ SET
FORCE OF NATURE
---
---
FIELD OF HEAVEN
7/28 (FRI)
7/29 (SAT)
7/30 (SUN)
BLACK BOTTOM BRASS BAND
cutman-booche
RAZOKU
Sandii
ROCK'N'ROLL GYPSIES
Magnolia
TOKIKO KATO
THE BENEVENTO/RUSSO DUO
Likkle Mai
GANGA ZUMBA
TRISTAN PRETTYMAN
FISHMANS
BLACKALICIOUS
THE STRING CHEESE INCIDENT
YURA YURA TEIKOKU
NORTH MISSISSIPPI ALLSTARS
---
UMPHREY'S McGEE
Shang Shang Typhoon
---
---
ORANGE COURT
7/28 (FRI)
7/29 (SAT)
7/30 (SUN)
OVERGROUND ACOUSTIC UNDERGROUND
MARINES BIG BAND
Double Famous
NATSUMEN
BIG WILLIE'S BURLESQUE
LISA ONO
THE TERRY ADAMS & STEVE FERGUSON QUARTET
MITSUKI KIMURA with SHINJI MIYAKE FRF ALL STARS
THE REFUGEE ALL STARS OF SIERRA LEONE
OOIOO
TRASHCAN SINATRAS
TOBY FOYEH AND ORCHESTRA AFRICA
AKIKO YANO
UA × NARUYOSHI KIKUCHI
THE THRILL
HARRY HOSONO QUINTETTE
JOHNNY A
---
All Night Fuji
SUGIURUMN
TIGA
DISCOTWINS
COBURN
DAMIAN LAZARUS
DJ TA-KA
Gypsy Avalon
7/28 (FRI)
7/29 (SAT)
7/30 (SUN)
AlayaVijana
KOICHI FUJII from WSHADAKO
YOEKO KURAHASHI
DAIKI
Sandaime Uotake Hamada Shigeo
SHUNTARO TAKABATAKE
TRASHCAN SINATRAS
Saigenji
KAZUMI NIKAIDO
URI NAKAYAMA
Yoshie.Ebihara
Anais
HIROSHI YAMAGUCHI (HEATWAVE)
AKOGINA SS (SHIGERU NAKANO + JUN SHIMOYAMA)
CLOVERS
Marcos Suzano + TAKASHI NUMAZAWA + NAOYUKI UCHIDA with YUJI KATSUI
SHIONE YUKAWA
The SUZUKI
---
Double Famous
Sun Paulo
THE PALACE OF WONDER
7/28 (FRI)
7/29 (SAT)
7/30 (SUN)
ROOKIE A GO-GO
THE 50KAITEN'S
ZUKUNASHI
ORESKA BAND
sister jet
YAPANI!
SAMURAI HIGH
VENI VIDI VICIOUS
THE BAND OF GREMERS
swan
TEX&the Sun Flower Seed
ROKUJO HITOMA
OHIO101
Moody?Rudy
TEGWON
CLARABELL
TENT
Tequila Savoy
Gaz Rockin Blues 25th Anniversary Special
Lets Crazy
POW DJ TEAM
Gaz Mayall DJ MC
The Hump DJs
DJ PAPA-Q
Baby Soul
Don Coglione
The Fire Tusk Painproof Circus
Lucifire fire show
BIG WILLIE'S BURLESQUE
SHUYA OKINO (KYOTO JAZZ MASSIVE)
Noboru Yamana (Blue Beat Bop!)
BRYAN BURTON-LEWIS(thirdculture)
KATTENI SHIYAGARE
BARRENCE WHITFIELD & THE RIZLAZ
Lucifire - suspension show
RAPHAEL SEBBAG
TOMMY (DRUM&BASS RECORD/ROCK A SHACKA)
Tokyo Panorama Mambo Boys
BIG WILLIE'S BURLESQUE
THE RUDE PRESSURES featuring Rico Rodriguez
MURASAKI BABYDOLL with JVC FORCE TYO
Amore Hirosuke
Gaz & the Rockin Blues DJ Showdown
POW DJ TEAM Sim Cass & Jason Mayall & friends
ARENA
AD Treepirate
Eddie Egals Fire Shower
Eddie Egals Fire Shower
Eddie Egals Fire Shower
The Fire Tusk Painproof Circus
AD Treepirate
The Fire Tusk Painproof Circus
AD Treepirate
Grand Fire Finale
NAEBA SHOKUDO
7/28 (FRI)
7/29 (SAT)
7/30 (SUN)
101A
outside yoshino
SAFI & CHANNEL SPHYNX
JOHNNY A
Anaïs
UMEKICHI
cutman-booche
MADAM GUITAR NAGAMI JUN
KICELL
GEN HOSHINIO
BIG WILLIE'S BURLESQUE
THE TAKO-SAN
IKKYU
---
---
DAY DREAMING AND SILENT BEEZE
7/28 (FRI)
7/29 (SAT)
7/30 (SUN)
YODA
TOSH
FUNKY GONG
barbi
newdeal
ayashige
Cinnabom
Dr.Shingo
Elektroscillobleeper
Palm Echo
Daisuke Matsusaka
MAYURI
TIMEK
ILL with YUJI KATSUI
SEINO
YODA
---
---